<< This fabulous shadow only the sea keeps. >>
Monday 21 April into sunrise 22 April 2008

artist Anne Devine performs:
This fabulous shadow only the sea keeps.
This fabulous shadow only the sea keeps. is a relational and site-specific performance starting with an 13,500 foot tandem skydive into DeLand, Florida on the afternoon of 21 April 2008. After her 120 mile-per-hour freefall to earth, artist Anne Devine hitches considerably slower rides with participating vehicles through Merritt Island National Wildlife Refuge until she reaches the ocean. Continuing north on foot from outside NASA's securely fenced Kennedy Space Center launch facilities and walking into the night, the artist searches for the legendary and elusive Fountain of Youth along the 24-mile undeveloped beach of the Canaveral National Seashore. With the aid of a nearly full moon and following her deeply rooted sense of intuition, Devine carries as a map Sikhote-Alin Meteorite SA28-41, a meteorite that formed naturally in the shape of her route. The artist is also guided by the dusk-to-dawn Lyrid meteor shower occurring overhead as she walks her way into its radiant and into Earth Day, 22 April 2008. A trail of visible light is left behind by the artist who is clad in a specially designed outfit of LED embedded lights. Gracing her calf are the names of twelve astronauts -- a walking tribute to the only persons who walked on the moon. Devine also carries with her replicas of images taken by astronauts of the earth as seen from moon, and -- celebrating the 36th anniversary of Apollo 16's lunar mission -- an image taken by astronaut Charlie Duke of his lunar footprints next to a family photo he left on the moon's surface during his stay on the moon April 21-23, 1972. Devine concludes her quest after sunrise with a ceremonial arrival by boat at Ponce de Leon Inlet (New Smyrna Beach), Florida.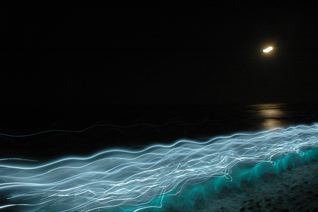 VIEW IMAGES of the perfomance